"Excellent book. Backed up by numerous references from the medical literature. . . Considerable value for doctors (and other health care professionals) who have become discontented with what is being advocated by the orthodox authorities."

(Erik T. Paterson, M.D.)
<![if !supportLineBreakNewLine]>
<![endif]>

"Saul uses a sharp wit in advocating for vitamins and attacking the medical and pharmaceutical professions."

(The Batavia Daily News, November 30, 2005)

"Study this valuable book, master its contents, and then when you see your doctor you will be able to discuss intelligently how to get well. If you find he or she yawns, shuffles about, looks through files, and become very impatient, then fire your doctor."

(Abram Hoffer, M.D.)

"This superb book should be in every home."

(Steve Hickey, Ph.D., School of Biology, Chemistry and Health Science, Manchester Metropolitan University)

"Andrew Saul's new book Fire Your Doctor! explains some of the best known nutrients now being used to improve cardiovascular health. He's a real stickler for providing reliable research based advice."

(Vitality magazine, February 2006)

"Empowering. An enjoyable, practical and easy-to-read book. I highly recommend this book to everyone, including physicians who wish to provide a comprehensive natural-health care program for their clients."


(John I. Mosher, PhD, State University of NY Professor Emeritus, Biological Sciences)

TO READ THE COMPLETE REVIEWS, Click Here

"FIRE YOUR DOCTOR? Just what kind of a nut would say that?"

A health nut, that's who. Here's my question to you: if you are not a health nut, just what kind of a nut would you rather be? Even the Journal of the American Medical Association has admitted that over 100,000 Americans are killed every year by prescription drugs, properly prescribed and taken as directed. According to Carolyn Dean, M.D., hundreds of thousands are killed by other medical mistakes. Now THAT is nuts!

Still, merely saying "Nuts!" to your physician is not enough. There must also be a set of positive, proactive, and practical alternatives ready for you to use. Fire Your Doctor shows you exactly how to employ safe and effective natural therapies for over 80 health conditions. This thoroughly referenced (and quite entertaining!) 208-page, double-column, large format (8 1/2 x 11) paperback has received very good reviews.

Health is a big subject and so is natural healing. There seem to be more areas of study, more -ologies and -opathies, than you can shake a stethoscope at. It takes some distillation to concentrate it down to the good stuff, but that is exactly why you will like this book. You do not need to know every aspect of mechanics to be able to drive your car. You do not need to master every detail of electronics to use your computer. And, by golly, you do not need to have an exhaustive knowledge of physiology or pharmacology to use your body. Rather, you need to know what works best to get you well and keep you well. That is the focus of this book: how we can get better using practical, effective, and safe natural therapies. Starting today; right now, in fact. Fire Your Doctor is also about an attitude. It is about empowering yourself. First off, you have got to want it. Are you sick of sickness? Then, say the Chinese, you are no longer sick.

You need to know what to do and how to do it. This we gain through reading others' work and by our experience confirming their experiences. It just so happens that the "others" I am referring to are physicians. I am not a physician and I am certainly not smart enough to make this stuff up. I am, however, able to find out which researchers and physicians are getting successful results and share their knowledge with you.

Mostly, Fire Your Doctor is about asserting yourself. For nearly thirty years, I have worked with lots of folks who have made the transformation from being somebody else's fear-filled patient to being their own self-reliant, naturally healthy Self. It can be done, and you can do it.

TO READ THE COMPLETE REVIEWS, Click Here .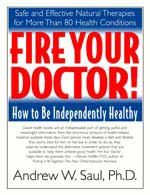 WHAT IS IN THE BOOK?
The contents of Andrew Saul's FIRE YOUR DOCTOR! How to be Independently Healthy include:
A foreword by Abram Hoffer, M.D.
Part One: Tools for Healthy Living consists of sections on A Pep Talk to Get Started; Educating Yourself; A Quick Start to Better Health; Three Steps to Health; Tips for Healthier Eating; How to Juice Fast; Supplements and How to Use Them; plus extensive information on the Safety of Vitamins.
Part Two: Natural Healing Protocols for All-Too-Common Health Problems has chapters on Acne, Anxiety and Panic Attacks, Arthritis, Behavior and Learning Disorders, Bipolar Disorder (Manic Depressive Disorder), Caffeine Addiction, Cancer, Cardiovascular Disease, Chronic Fatigue and Immune Dysfunction Syndrome (CFIDS), Chronic Pain, Constipation, Coughing, Colitis, Ulcers, and Other Gastrointestinal Problems, Down Syndrome, Earaches and Ear Infections, Eczema (Atopic Dermatitis), Emphysema and Chronic Respiratory Diseases, Fever, Gallstones, Headaches, Herpes, Cold Sores, HPV (Human Papilloma Virus), Shingles (Herpes Zoster), Indigestion, Lupus, Macular Degeneration, Motor Neuron Diseases, Muscular Dystrophy, Osteoporosis, Prostate Problems, Psoriasis, Respiratory Infections, Sore Muscles, Sugar Cravings, Tobacco Addiction, Tooth Problems, Urinary Tract Infection (UTI), Weight Loss, Yeast Infections, and more.
ADDITIONAL TOPICS ARE COVERED IN ADDITION TO THOSE MENTIONED ABOVE.
FIRE YOUR DOCTOR: How to be Independently Healthy is available from any internet bookseller. It is not for sale at this website.